From July 19th a copy of the new St John's newsletter will be distributed via email and/or post to all parishioners each week, keeping us all more connected especially during these challenging times.
This has detailed news and includes the readings, sermon and prayers.
If you are a member of the parish and are not receiving the newsletter – or would like to become a member – please contact Fr John directly, or through the parish office at office@stjohndivine.org.au

We all look forward to the time when we can worship together again and, in the meantime, please stay safe and continue to keep each other, our parish and our community in your prayers.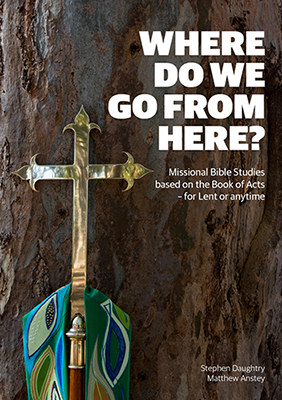 PENTECOST SEASON
From Pentecost Sunday all parishioners are invited to participate in a seven week course, working through stories from the Book of Acts, as we explore the 5 Marks of Mission of the Anglican Communion, through the ABM Bible Study book: Where Do We Go From Here?

The booklet has now been distributed, and the Sunday readings and sermons are fitting in directly with the Bible Study course. If you haven't yet received your copy, please contact Fr John directly, and he will ensure you receive one.

Note that a parishioner has covered the $9 cost (with postage) for every parish household to receive a copy. The best payment you can make is to read through it, because we will be referring to the contents in the months ahead.
Offertory
Thank you to all those who are managing to send their offertories to the Parish Office, or directly into the parish bank account. Click here for details about making a direct deposit.